SERVING SAN DIEGO SINCE 2OO4
Artware is a full service frame shop located in San Diego. We have been providing art and framing for individuals, galleries, designers, artists and collectors since 2004. We use the newest technology in picture framing to provide you with the highest quality craftsmanship at an affordable price. Our expert design team will assist you in combining your taste with our ideas for a rewarding picture framing experience.
Your artwork, whether it's something you've purchased or something you've created, should be framed before placing it on your wall. Other documents or photographs should also be framed for their protection and to enhance how they look. Yet, standard framing options may not suffice. Instead, we can help you create a customized frame that's perfect for your artwork. At ArtWare, we're ready to help you create the perfect frame.
Professional Assistance to Choose the Right Components
We offer a huge selection of custom framing in our Frame Shop for any artwork, photographs, documents, and more that you want to display. However, choosing the perfect components for the framing isn't always easy. We can help you look through all of the options to decide what's going to work perfectly for your needs. With plenty of options to choose from, you're sure to find the right custom framing components.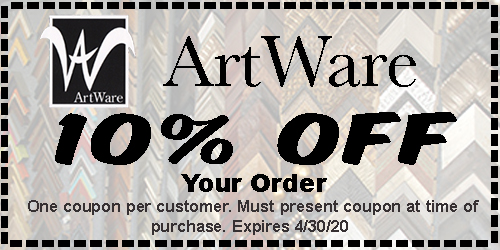 All the Benefits of a Custom Frame Shop
There are many different benefits of custom framing from our Frame Shop. You'll be able to make sure you can get the exact framing you want for anything you want to display.
Personalize the Piece – You can choose all of the custom framing components, from the frame to the mat and more, to make sure it looks the way you want.
Only Quality Materials – We only use quality materials, so you don't have to worry about the materials breaking down over time. The frames are much higher quality than the standard ones you'll find in stores.
Protection for Delicate Pieces – Some pieces need to be protected from light or dust. We offer framing options to make sure you're your artwork or another piece is protected for years to come.
Everything Meets Your Specifications – We work with you to make sure everything meets your exact specifications. We can even help you decide if you aren't sure what you need.
Timely Completion of All Frames
When you want something framed, you want to have it done quickly. After all, you don't want to have to wait to display the piece. With our custom framing options, it's possible to have the frame completed quickly. We'll make sure it's completely on time for you. Plus, we'll make sure it doesn't go over budget so you don't have anything to worry about.
Attention to Details to Ensure You're Happy
We pay attention to every little detail to make sure the framing is perfect for your needs. We have a huge selection of custom framing options for you to choose from and we use the latest technology to create the frame for you. This enables us to make sure the frame has everything you need and looks exactly the way you want it to look. At ArtWare, we want to make sure your artwork, documents, photographs, and more can safely and beautifully be displayed in your home. Contact our Frame Shop today so we can get started working on the perfect custom frame for you and make sure it is exactly what you need.
"Artware is a hidden gem. If you need custom framing, Jeremy is the guy to see. He knows everything there is to know about framing and he works with everybody."
- Matt M.
Ready To Get Started On Your Custom Framing Project?